Raising the bar for furniture sustainability together in 2022
Despite challenging global circumstances, PEFC continued to work towards a foundation for sustainable furniture in 2022. From building partnerships and links in the supply chain to raising awareness of sustainable forest management at events around the world, read on as we take a look back at 2022 in the Forests Are Home campaign.
Raising the bar for furniture sustainability together in 2022
28 November 2022 Blog
Despite challenging global circumstances, PEFC continued to work towards a foundation for sustainable furniture in 2022. From building partnerships and links in the supply chain to raising awareness of sustainable forest management at events around the world, read on as we take a look back at 2022 in the Forests Are Home campaign.
In a little over a year, the PEFC 'Forests Are Home' sustainable furniture campaign is now home to 15 national members, representing over 51 million hectares of certified forests and thousands of furniture designers, manufacturers and retailers across the world.
Extreme weather events in 2022 have contributed to a growing movement to address the worst effects of climate change and PEFC have taken the initiative to seek solutions within the furniture industry. Over the course of the year, PEFC has hosted events on carbon storage in wooden furniture, considered the positive impacts of sustainable furniture for the circular economy, explored the role of forests in sequestering carbon from the atmosphere, and took a midsummer trip to the sustainable forests of Northern Europe.
Through the 'Forests Are Home' campaign, we will also continue to highlight the stories of furniture designers, manufacturers and retailers that choose sustainably sourced wood. Over the course of the year, PEFC have collaborated with 8 furniture companies from France, Finland, Italy, Korea, Malaysia and Vietnam to tell their sustainability stories and share how these companies are using PEFC certified and sustainably sourced wood to bring new meaning to our homes and living spaces. These partnerships are integral towards building a platform for sustainable furniture, and PEFC continued to honor that commitment with their collaboration with AFIC in 2022.
Partnerships that are changing the face of furniture sustainability
AFIC
For many years, PEFC has been actively working towards establishing a foundation for sustainability throughout the furniture supply chain in Southeast Asia. In 2021, PEFC announced a partnership with the ASEAN Furniture Industries Council (AFIC), the influential regional trade association for the furniture industry in Southeast Asia. As a part of our larger commitment to pursuing a platform for furniture supply chain sustainability in Southeast Asia through the Sustainability Roadmap, AFIC and PEFC have cooperated on a number of initiatives during 2022. If you would like to find out more about this exciting partnership and how we have been working together towards a platform for furniture sustainability in Southeast Asia, read the full article here.
ENAIP
ENAIP Trentino is a boarding and day school for secondary students who are interested in pursuing careers relating to woodworking and forestry. Last year the school launched the 'School Net Project'', a programme to advance the professional and personal development of secondary students, professors, carpenters, woodworkers, sawmill workers, and school staff.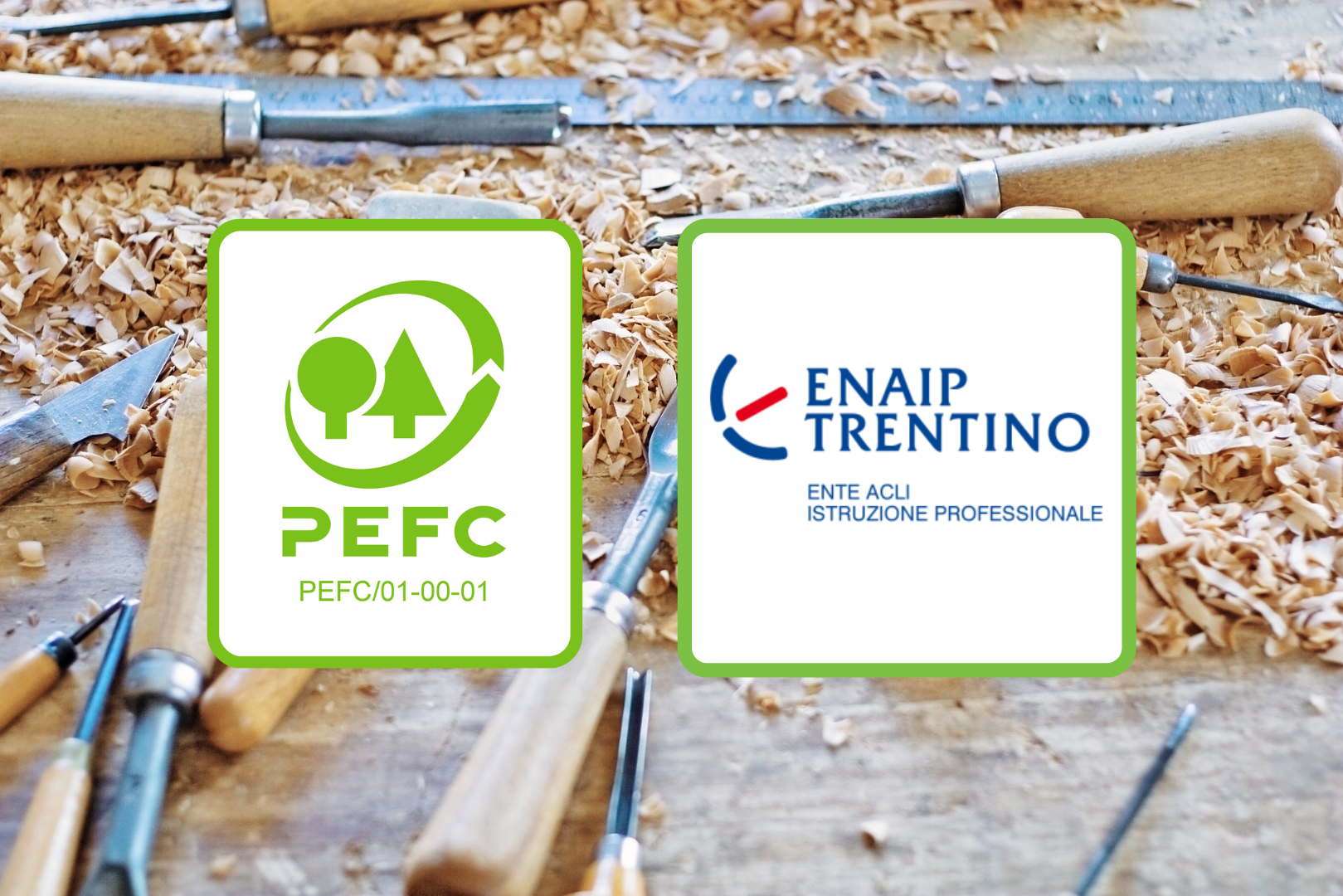 As a part of this programme, PEFC International and PEFC Italy have cooperated with ENAIP to offer a 4-year program for secondary students that centers sustainability in the forest/plantation/wood supply chain, starting from the protection and management of forest ecosystems, up to the traceability and legality of wood assured by PEFC certification.
Going forward, ENAIP plans to expand the School Net Project beyond the borders of Italy, hoping to introduce the program to similar schools in Europe, and PEFC will be there to support that vision. Thanks to the students and the teachers at ENAIP Trentino, the future for the forests of northern Italy looks bright. And with the rapid expansion of the School Net Project, those benefits will be felt far and wide.
PEFC is live
Carbon Webinar
We were delighted to welcome participants from 46 countries for the "How the wooden furniture you design, make and sell stores carbon and fights climate change" webinar in September. Our first speaker, Michael Berger, PEFC International CEO/Secretary-General revealed that forests must be managed sustainably in order to realize their full potential as sinks for carbon, and act as a bulwark against climate change. He further explained that PEFC is in a unique position to form the 'missing link' in the sustainability of the furniture supply chain by;
Contributing to the development of forest management concepts, standards, and ways to manage forests.
Working directly with stakeholders in the supply chain - how to trace material, how to ensure that material from sustainably managed forests is used in products.
Providing tools for communication to consumers and producers in the supply chain that they are purchasing or using sustainably sourced materials.
Francesco Negro, Assistant Professor in Wood Technology at the University of Torino suggested that PEFC certification can support forests to maintain and even increase their capacity to store carbon, with specific reference to PEFC standards. Francesco concluded by noting that sustainably managed forests can better withstand natural disturbances, such as wildfires, and that unique opportunities existed for furniture companies who could prove and display the amount of carbon that was stored in the furniture they make and sell.
Forests Are Home at National Events
The 2022 Vietnam International Woodworking Industry Fair (Vietnamwood) is one of the biggest events in South East Asia specializing in wood processing and production of wood products. This year the exhibition was held in Ho Chi Minh City in October, and we were joined by our national members in Vietnam, the Vietnam Forest Certification Scheme (VFCS) at the fair, where we invited participants to discuss the important role of sustainably managed forests for the furniture sector and the benefits of sourcing certified wood.
PEFC and VFCS also hosted a successful event at the Vietnam Furniture Matching Week, organized by the Handicraft and Wood Industry Association of Ho Chi Minh City (HAWA) in April this year. During this event, we highlighted the importance of sustainable furniture and explained PEFC's role to our audience in Vietnam. We also took the opportunity to meet up and connect directly with our strategic partners, certification bodies and interested companies.
Building a foundation for sustainable furniture can only occur when PEFC certified wood and products are visible to potential customers and stakeholders in the furniture industry. That's why we were delighted to see furniture using PEFC certified and sustainably-sourced wood on display at the Salone del Mobile Furniture Fair in Milan, the largest trade fair of its kind in the world.
Looking towards 2023
After the webinar in September, a number of furniture industry stakeholders approached us and were interested to learn more about carbon storage in wooden furniture. PEFC will launch the CO2 Carbon Storage Calculation Project in 2023. This project will begin with the publication of a carbon calculation storage booklet that will inform furniture designers, manufacturers, retailers and traders how they can calculate and communicate to their customers the precise amount of carbon that their products store. Furniture companies that can prove that their products are sustainably sourced and contribute to the fight against climate change, the circular economy and the road to net zero carbon may benefit from improved green brand credentials, and contribute to driving the demand for sustainably sourced timber. Stay tuned for upcoming announcements about our Carbon Storage Calculation Project in 2023!
Small and medium-sized furniture business owners have also requested a Chain of Custody webinar tailored towards the specific challenges that they face, and PEFC plans to host a two day webinar in March 2023 to provide a complete overview of the chain of custody certification system for SMEs (Small and Medium Enterprises). Attendees will be given a comprehensive introduction to PEFC CoC standards, the methods for implementing the chain of custody standards and due diligence system (DDS) (including identifying wood from controversial sources), and how companies can obtain certification for multiple operating plants and sites. You'll also learn about the journey towards certification from one of our certified companies, and how chain of custody certification can help you prove to your customers that you are sourcing wood and manufacturing furniture sustainably. Contact us to get more information
We all have a part to play in protecting the world's forests. When furniture manufacturers choose certified wood, when retailers choose certified sources, when customers choose certified furniture, we all help safeguard the world's forests, its ecosystem and contribute to healthy local communities, local workers, and the local economy. PEFC will continue to work everyday to protect those forests and the people that call them home through the Forests Are Home campaign.
Forests Are Home
Through the Forests Are Home campaign, PEFC is bringing wood suppliers, furniture manufacturers and designers together to demonstrate that effective partnerships in the furniture supply chain can lead to a brighter future for the world's forests.
Forests are Home is for all companies who manufacture and/or sell PEFC-certified wood for furniture and PEFC-certified wooden furniture products, and anyone who would like to support the campaign's objectives. And If you have already chosen PEFC-certified wood for your furniture products but those products are not yet certified, you can also participate in the campaign.
There are many ways you can help make a difference, start now by joining the Forests Are Home campaign.
https://furniture.pefc.org/join-our-campaign